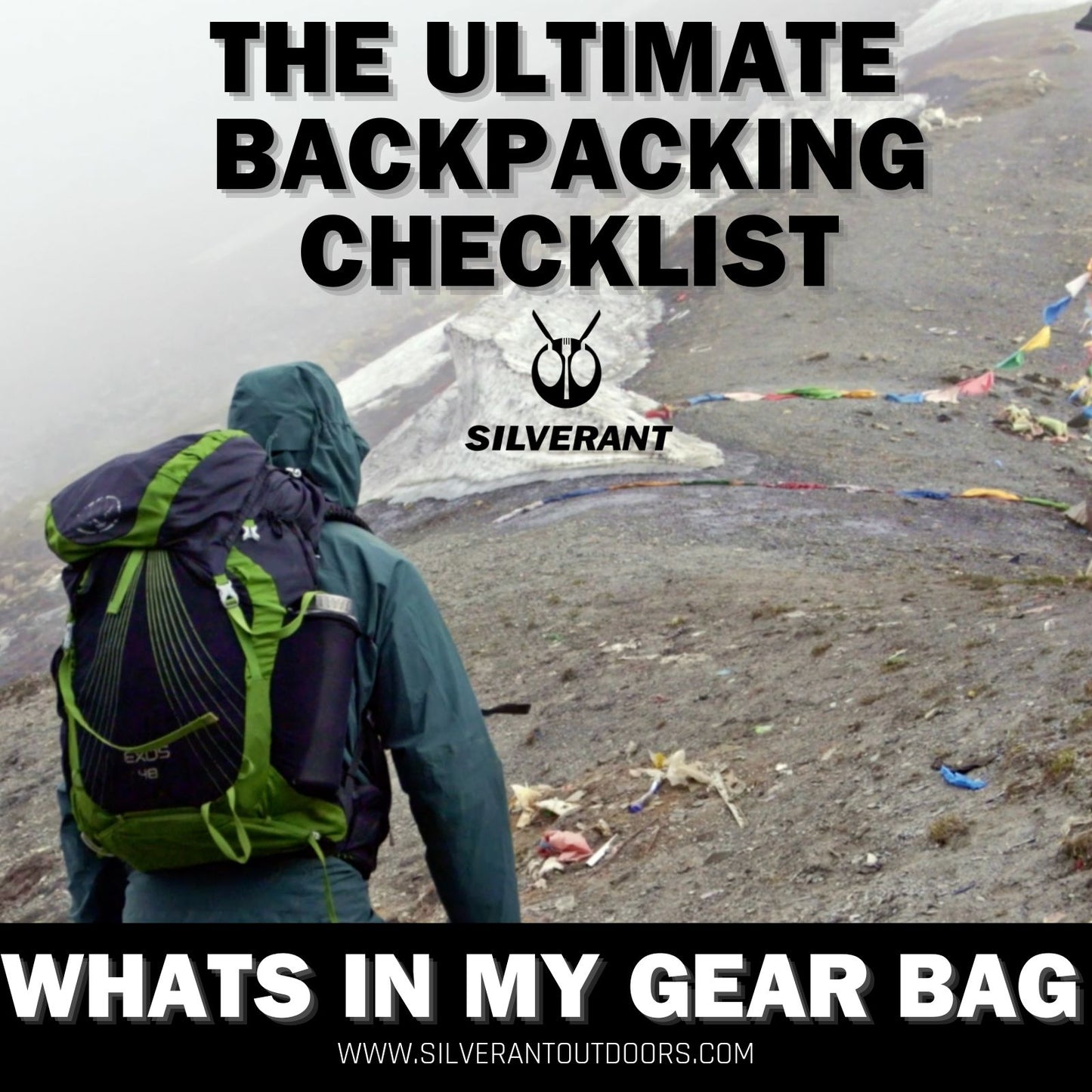 The Ultimate Backpacking Checklist: Must Have Outdoor Gear
When outdoors you want gear that is functional, durable, and long-lasting. Over the years I have been fortunate and unfortunate to try a load of different gear. In this blog post, I'll take you through my gear bag now. I'll highlight the must-have titanium and outdoor gear that I have accumulated that's proven its worth time and time again. So, let's dive in and discover the gear I always take.
Hydration
To start this blog piece let's begin with hydration, the most important element to plan your backpacking adventure around.
Before starting SilverAnt the brand of water bottle I always used was CamelBak. I found their products fantastic and I had both a hydration rucksack with a 3-litre reservoir as well as the smaller Eddy Water Bottle. I couldn't get along with other options like Nalgene and found the versatility of CamelBak lids the superior option. 
Now, I am a keen advocate for titanium water bottles because of the ability to boil water in them without using any other gear. Titanium water bottles are ultralight and more durable than plastic water bottles!
For me, being able to use any available water source, boil water, and then add purification tablets. It's a game-changer!
Recently on my trip to the Himalayas, I was testing the new wide-mouth titanium water bottles before the general sale this month. I found them to be even more convenient than our existing large titanium water bottles. When refilling water from mountain streams it was much easier. As a bonus, they are also lighter because of the redesigned lid design too. With SilverAnt's new 1200ml/42.2 fl oz and 1500ml/52.8 fl oz wide-mouth titanium water bottles, you can now use a CamelBak Eddy lid. 
For those customers that can't get along with a titanium lid, this is the best alternative. You get the lightness and strength of titanium with a durable plastic lid from a multi-billion dollar outdoor company!
To add if I am doing super long backpacking adventures - although not that common nowadays. I will in addition to the 1200ml and 1500ml titanium water bottles also carry my old CamelBak 3 litre reservoir. I can boil water in the titanium water bottles, add the purification tablets if needed, wait to cool, then pour it into my reservoir. I then repeat the process ensuring the titanium water bottles are then also full with water ready-to-drink.
One of our content partners Alexis Outdoors uses her SilverAnt titanium water bottles as a hot water bottle in the sleeping bag during the cold Canadian winter months! 
Cooking Gear
After organizing water for your backpacking trip what is next - food! And to cook delicious backcountry meals you need quality cookware. In this article, I won't go into what food to carry or my favorite dishes but instead focus on the best backpacking cookware. 
Again before stating what is currently in my gear bag, I will tell you I used to have a JetBoil. They are a robust and convenient item of gear but nowadays I prefer to go with titanium. Comparing titanium cookware and a JetBoil for weight is significant. Also, the JetBoil is aluminum and I find if the ignition goes wrong it is a bit frustrating. Now I aim for simplicity and I will go with 2 items of cookware depending on the length of my backpacking trip. 
For those shorter trips with dehydrated food packs planned out, I will opt for the SilverAnt 750ml pot. I can boil water quickly using my stove and it's big enough for a folded food bag, heating the contents inside. Alternatively with dehydrated food bags boiling water and pouring inside the bag couldn't be easier. In the future, I am hoping to do a few small bikepacking trips and this will be my setup to save as much weight as possible.
When on longer trips, and or with a friend/family member I will always use the SilverAnt 3-piece titanium cookware set. This titanium cookware is fantastic! The 3 items of titanium cookware - the titanium frying pan, titanium mid pot, as well as the larger titanium pot, it's everything I need. 
The cookware nests together, and fits my larger gas canister, as well as other gear - it's my absolute go-to! The handles are strong and I can boil water quickly cooking 2 dehydrated meals together. When a friend is with me we just take this titanium cookware and two stoves. That way we can both cook together. In the morning I can boil water for the oats, and they can get the coffee brewing!
Cooking Stove
After revealing the cookware kept in my gear bag the next logical question is what camping stove? Again the answer is depending on a few variables, nonetheless, I will always use the MSR XGK multi-fuel stove or my titanium SOTO stove. 
After my JetBoil died I splashed out on the MSR multi-fuel stove and after 8 years or so it's still going strong. Admittedly I don't use it so much now in Asia but it's still a solid stove that performs in all conditions. 
The reason I switched to the SOTO 3 years ago was first because of my love for titanium. I wanted something lightweight and strong, but more so I wanted to use gas canisters. In China the regulations on fuel sources are strict and trying to get petrol filled up in my MSR fuel bottle became a hassle. Due to this, I switched to using the SOTO titanium stove.
The great feature about these 2 stoves is they are collapsible, strong, and durable. Of course, the titanium one is lighter but with the wide burner on both stoves, they boil water in no time. The Japanese brand SOTO makes some great stoves so I can't commend them enough. MSR is world-famous for quality gear so either the whisper lite or XGK are solid stove options.
Backpacking Utensils
To conclude the food and water-related outdoor gear I wanted to tell you what utensils I kept in my gear bag. 
On every trip I take I will carry these two items. Firstly the SilverAnt 3-piece titanium cutlery set. I carry this set and keep them together on the titanium carabiner because it caters to both backcountry food bags as well as camp cooking. I will need multiple utensils depending on the meal I am cooking. Also, I've found cutlery is an overlooked item when preparing for backpacking trips. I am often sharing the fork or spoon with my friend who has forgotten theirs. 
Next, I carry the long handle spoon. This is perfect for food bags, getting the last mouthfuls of food as well as stirring food or drinks. Often I find myself using the handle of the titanium long-handle spoon to stir my sugar in the morning coffee. Due to the weight of each utensil, it doesn't matter that I always carry both sets. I get as much use out of both sets as some people who prefer to just use a spork. I never have to worry about the titanium cutlery breaking and I will have these items for a lifetime!
Sleeping Pad
In the ultralight backpacking world, it is a contentious question about whether you bring a sleeping pad. Some say save weight, prepare the pitch site well, and this stuff, whereas others say a good night's sleep is more important. 
I am a strong supporter of great sleep so I advocate bringing the sleeping pad with you! I have 2 sleeping pads I use. One is the Nemo switchback foam folding sleeping pad. The second is the Gear Doctors Apollo Air self-inflating pad. Both are great and suit different functions. 
The Nemo sleeping pad is old school meets innovation. It's not bulky and hard to fold but sleek and extremely well-designed. It slides down the side of your rucksack like a dream when not in use! The Gear Doctors pad is self-inflatable so even comfier but requires a little longer to inflate, although not a sacrifice for the great night's sleep you get. 
When deciding between the two options I think more about the weather forecast. If it's cold and raining or supposed to rain I will opt for the simple folding Nemo sleeping pad. If it's good weather the Gear Doctors Apollo sleeping pad. The reason for this is keeping the gear clean and the speed at which I need to set up my campsite.
Shelter - Tent
The next item of gear on my ultimate backpacking checklist is my most recent purchase, the Six Moon Designs Haven tent. This is the first high-end tent I have ever purchased. It's sexy as hell and so lightweight! 
Before my tents have never been more than $200 but for this I wanted to splash out and get something ultralight for the as-mentioned bikepacking trips. I went with a Haven tent, which has more headroom and space without sacrificing weight. I first discovered Six Moon Designs from them being a top pick by Garage Grown Gear. After some research and checking out the other options from the likes of Nemo and MSR, I went with this because of a few great bikepackers reviews. If you want an epic tent this is the one! Although as noted it is a bit more expensive it is worth the investment. 
Also, pair this with the SilverAnt titanium tent pegs and you have an ultralight tent set up for all seasons!
Backpack & Rucksack
As a lover of the outdoors and gear junkie, I have had a few great rucksacks and backpacks over the years. I have had backpacks from the likes of Dakine, CamelBak, Lowe Alpine, and Osprey. But without a doubt, the best company has to be Osprey! 
I currently have 3 Osprey bags, the Talon 11, Talon 44L, and the large Osprey Transporter 90 roller suitcase. All these 3 bags are super durable and long-lasting, but when backpacking I always use the 44L Talon. This is also my climbing bag so its received heaps of abuse and keeps on performing. This backpack can hold all my essential gear and more!
The 44l Talon back frame support is also the best I've ever used. When used as a climbing bag it has my 70m or 80m rope, harness, quickdraws, helmet, and extra clothing. To say it is heavy is an understatement but it equally distributes the load making the approach to the crag that much more comfortable.
I also wanted to add that as a birthday gift 2 years ago my wife got me the Mystery Ranch Coulee 25 and this is also a beast of a day-to-day rucksack. I use this every day as my general go-to bag and recently took it for a short 3-day backpacking trip. I also recommend this rucksack as an ultra-lightweight rucksack for those summer trips where less gear is needed.
Gear Extras
Lastly, after revealing my absolute gear favorites I thought I would share a few other items on my backpacking gear checklist. These aren't always taken with me like the above-mentioned, but there is a pretty high chance they will be!
First off is the SilverAnt titanium coffee French press. I love coffee and over the years I have actively learned more about the beans and the art/science of roasting. And with this knowledge, it has made me appreciate my favorite morning beverage more! Although some people are content with instant coffee sachets, I most certainly am not! That is why the titanium coffee French press will is found in my gear bag.
On a similar thread, I usually carry a titanium container or two on backpacking trips. One titanium container always carries my favorite ground coffee ready for the morning brew. The other will hold general items like plasters or lip balm in the top of the rucksack. I also stock up on a few sugar sachets from the local coffee shop and store inside. Naughty or genius - you decide?
For pure luxury and comfort after a long day trekking you will often find me at the campsite with my Chacos. Not the Z1s but the sliders as they are lighter and easy to carry. These are great with socks when you are in warmer climates as the mosquitoes can't bite you too! I also will always take my Patagonia R1 hooded jacket backpacking. This thing is great on a warm evening when it gets cooler as well as on a cold autumn night.
Lastly, on my recent trip to Japan, it was so hot that I had to buy in the evening from the local outdoor store a sun hat to protect me the following day at the Outdoor exhibition. Since that, I have worn the hat by Millet every backpacking trip and I wore it every day in the Himalayas. It is well-ventilated, comes in a variety of colors, and is just the right diameter. Not too small and not too big it looks ridiculous. 
Conclusion
As an experienced backpacker and outdoorsman, I've learned that having the right gear can make all the difference in your outdoor adventures. The above outdoor gear items I've highlighted in this blog post offer a perfect balance of strength, weight, durability, and functionality.
So, consider adding these must-have outdoor gear items to your backpacking checklist, whether you're planning a multi-day expedition or a shorter ultralight trip.
To your next adventure!
Shaun