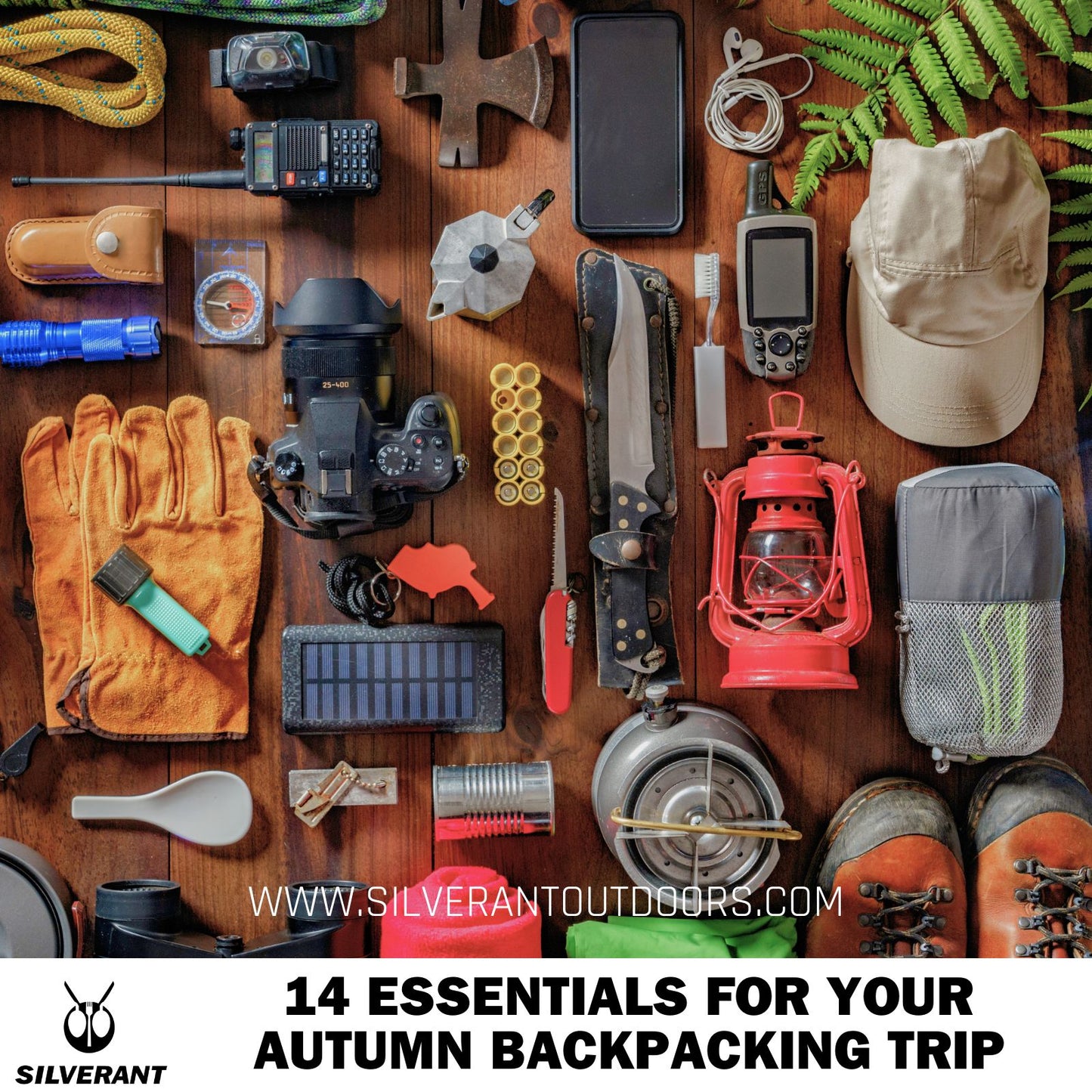 Introduction
As the refreshing and cool breeze of autumn establishes itself, it presents an ideal opportunity to set out on a backpacking escapade amidst the mesmerizing splendor of the natural world.
The shift from summer to autumn unfolds like a captivating performance orchestrated by nature itself.
Trees shed their vivid green attire, adopting hues of fiery reds, oranges, and deep yellows.
Trails and camping sites, once bustling, gradually quieten as the temperatures descend, granting you the chance to relish in the calm magnificence of the environment.
Autumn extends an invitation, offering cooler days, diminished perspiration, and an almost tangible tranquility.
Autumn backpacking delivers a distinct encounter, featuring lively foliage, reduced crowds, and favorable hiking conditions.
Nevertheless, if summer still holds sway in your vicinity, feel free to explore this blog post: "Everything You Need for Your Summer Backpacking Trip."
The cooler temperatures of autumn also bring solace to hikers and campers. The days of scorching heat, where each step felt like a battle against the sun, are no more.
Instead, you'll relish in the invigorating, brisk air that transforms hiking into a source of joy.
As night descends, the chilly evenings offer a welcomed relief from the warmth, elevating the allure of campfires and snug sleeping bags.
To make the utmost of your autumn expedition, effective preparation is of paramount importance.
Adhering to the age-old saying, "Failing to prepare is preparing to fail," holds particular significance in the realm of the outdoors. The wilderness, though captivating, can be merciless.
To ensure a secure and pleasant journey through the autumnal wilderness, deliberate over the subsequent 14 indispensable items:
Weather-Appropriate Clothing

Sturdy Footwear

Backpack

Shelter

Sleeping Bag and Pad

Multi-Tool or Knife

Fire-Starting Kit

Hydration System

Nutritious Food

Navigation Tools

Flashlight or Headlamp

First Aid Kit

Communication

Leave No Trace Essentials
With these 14 essentials stowed in your backpack, you'll be fully primed to embrace the marvels of autumn, immersing yourself in the vivid foliage, tranquil trails, and serenity of the natural world.
So, equip yourself, venture into the woodlands, and craft enduring memories amid the exquisite beauty of the fall season.
Weather-Appropriate Clothing
Autumn is a transitional season, and its weather can be quite unpredictable.
One moment, you might be hiking under a warm sun, and the next, a chilly breeze may set in. Therefore, when it comes to clothing, versatility is key.
Consider wearing a moisture-wicking base layer like the Patagonia Capilene Midweight Crew to keep sweat away from your skin, helping to regulate your body temperature.
Over this, layer with an insulating mid-layer such as the Patagonia R1 Hoodie. This option provides excellent warmth without adding excessive bulk to your backpack.
For outerwear, invest in a good-quality waterproof and windproof jacket from Patagonia; they have heaps of options for you to decide upon. Look for one with breathable materials to prevent you from overheating during strenuous hikes.
Finally, don't forget a warm hat and gloves. Again, you can get these from a large outdoor brand or go more cottage-based with premium leather gloves for bushcraft and a handmade beanie with a story.
They'll keep you cozy on crisp autumn mornings and protect against unexpected cold snaps.
By selecting high-quality brands and products like these, you can ensure that your clothing keeps you comfortable and protected during your autumn backpacking adventure.
Sturdy Footwear
Your choice of footwear can be the decisive factor in making or breaking your backpacking trip.
When it comes to choosing hiking boots, La Sportiva is celebrated for their comfort and durability.
It's imperative to opt for a pair that not only feels comfortable but also provides the essential ankle support required for navigating uneven and potentially slippery fall trails.
Imagine you're embarking on a trek through the vibrant, leaf-strewn woods, and you encounter a steep, rocky incline.
Without proper ankle support, every step becomes a precarious dance, risking injury and dampening the joy of your journey.
To ensure a comfortable and blister-free experience, take a cue from experienced hikers.
Before your trip, invest in a pair of moisture-wicking, cushioned hiking socks.
Brands like Darn Tough and Smartwool are revered for their ability to keep feet dry and comfortable even during strenuous hikes.
These socks act as a protective barrier between your feet and your boots, minimizing friction and reducing the risk of painful blisters.
Moreover, the importance of breaking in your boots cannot be overstated.
Those new hiking boots, no matter how high-quality or reputable the brand, can be stiff and unforgiving when you first wear them.
To avoid discomfort and potential foot woes on your backpacking adventure, wear your boots on shorter hikes or even around town.
Allow your feet the time to adapt to the fit and feel of the boots, ensuring that by the time you hit the trail, they feel like a natural extension of your body.
This small investment of time and effort can pay substantial dividends in terms of comfort and enjoyment during your autumn backpacking trip.
Backpack
Selecting the right backpack is paramount for a successful autumn backpacking trip.
Osprey is one of the leading and highly regarded brands recognized for crafting top-quality backpacks.
When making your backpack selection, prioritize both comfort and functionality.
Seek out features like padded shoulder straps and a supportive hip belt, exemplified by options such as the Osprey Atmos AG.
These features not only provide excellent cushioning for your shoulders during extended hikes but also efficiently distribute the load, reducing strain on your back.
It's also crucial to carefully assess the size of the backpack you require.
For shorter day hikes or overnight trips, a smaller backpack like the Osprey Talon is often sufficient.
However, if you're embarking on a more extended adventure, consider opting for a backpack with a larger capacity, such as the Osprey Aether.
Remember that the ideal backpack isn't necessarily the most massive one available.
Instead, it's about striking the perfect balance between size, comfort, and functionality, aligning with the duration of your journey and the gear you plan to carry.
Shelter
In the realm of autumn backpacking, the optimal choice for shelter is a 3-season tent.
These tents are meticulously crafted to offer adaptability, making them suitable for spring, summer, and, crucially, fall.
Characteristically lightweight, these tents are ingeniously designed to withstand moderate wind, rendering them a versatile choice for the capricious weather conditions often encountered during outdoor expeditions.
In addition to a tent, it is prudent to include a lightweight emergency shelter in your backpacking arsenal.
Noteworthy examples of such emergency shelters encompass the highly acclaimed "SOL Emergency Bivvy" meticulously engineered by Adventure Medical Kits, and the "Emergency Space Blanket" thoughtfully crafted by TITAN Survival.
The "Emergency Space Blanket," akin to the one pioneered by TITAN Survival, is a diminutive yet resourceful reflective blanket.
It can be adroitly draped around you to furnish not only warmth but also a barrier against the elements.
These space blankets are extraordinarily featherlight, ensuring minimal encumbrance in your backpack while serving as a convenient addition to your gear.
Alternatively, consider the utility of a bivy bag, such as the SOL Emergency Bivvy.
These compact shelters are both waterproof and windproof, serving as a robust safeguard in emergencies to ensure you remain dry and cozy.
When compared to a space blanket, a bivy bag exhibits a heightened level of resilience, affording superior protection against inclement rain and blustery winds.
These compact and easily portable emergency shelters are indispensable additions to your gear, offering the priceless peace of mind that you possess a reliable means of protection should the unforeseen necessitate it during your autumn backpacking expedition.
Sleeping Bag and Pad
Ensuring comfort and warmth is also crucial during your fall backpacking adventure.
Consider renowned brands such as The North Face, recognized for their exceptional outdoor gear, including sleeping bags like "The North Face Cat's Meow," renowned for their outstanding warmth and insulation, ideal for cooler nights.
In addition to a quality sleeping bag, it's wise to invest in a dependable sleeping pad.
Brands like Therm-a-Rest offer a variety of options, with the "Therm-a-Rest NeoAir XLite" being notable for its comfort and insulation properties.
This ensures a snug night's rest, even when faced with chilly autumn evenings.
These brands and models represent just a selection of the many available choices, allowing you to tailor your fall backpacking experience to your specific preferences and needs, guaranteeing both comfort and enjoyment.
Multi-Tool or Knife
While you're out there on your autumn backpacking escapade, one item you shouldn't underestimate is a multi-tool or a dependable knife.
A multi-tool or robust knife from trusted brands like Leatherman or Gerber can prove to be an invaluable asset during your autumn backpacking adventure.
These tools are designed with versatility in mind, allowing you to seamlessly tackle a myriad of tasks.
For instance, imagine you're preparing a warm, hearty meal at your campsite.
A multi-tool with a built-in can opener, knife, and fold-out utensils can transform the experience from a chore to a breeze.
Brands like Leatherman offer models like the Leatherman Signal, which boasts a variety of useful tools including a knife, pliers, and even a fire-starting ferro rod.
Furthermore, you might find yourself in a situation where you need to cut a piece of cord to set up a tarp shelter for unexpected rain,
With a reliable knife like the Gerber Paraframe, you can effortlessly slice through the cord, ensuring you stay dry and comfortable.
Moreover, during our recent camping trip in Yangshuo, we encountered a situation where we misplaced one of our titanium tent stakes.
To our rescue, my friend Shaun skillfully fashioned a replacement stake from available wood using his Gerber Paraframe knife with remarkable ease.
When it comes to gear repair, a sturdy multi-tool with screwdrivers, pliers, and wire cutters can be a true lifesaver.
It allows you to make on-the-fly adjustments and fixes, ensuring your equipment performs optimally throughout your journey.
So, whether it's chopping vegetables for a trailside feast or addressing unexpected challenges on the trail, having a quality multi-tool or knife from reputable brands like Leatherman, Gerber, or Victorinox will undoubtedly prove to be a valuable companion on your autumn backpacking adventure.
Fire-Starting Kit
Autumn nights can be chilly, and the ability to start a fire is not only comforting but can also be a safety necessity.
To assemble a dependable fire-starting kit, consider including trusted brands and proven materials.
Beyond the essentials of waterproof matches and a steadfast lighter, you have the option of incorporating firestarter materials like cotton balls infused with petroleum jelly, commonly known as "firestarter cotton balls," for a virtually foolproof ignition.
These can be conveniently prepared in the comfort of your home, ensuring they are poised for use when the situation demands.
Alternatively, consider the inclusion of firestarter sticks from respected brands such as Coghlan's or UST.
These sticks are not only compact but also boast an ease of ignition and a consistent, enduring burn.
In addition, ponder the merits of carrying a Permanent Match, a compact and unwavering tool that requires only a modest quantity of oil.
It can endure for weeks, serving as a reliable fire source precisely when you need it most.
Remember, before lighting any fire, always check local fire regulations and obtain any necessary permits.
Responsible fire management is not only essential for your safety but also for the preservation of the wilderness you're exploring.
Hydration System
Ensuring adequate hydration is an absolute imperative for your overall well-being during your autumn backpacking expedition, and the choice of the right hydration system can truly make a world of difference.
Let's now explore some instances and reputable brands to aid you in making the optimal selection for your excursion.
Investing in a top-tier reusable water bottle is both an environmentally responsible and pragmatic decision.
CamelBak, a top-tier brand, offers a wide range of sizes and styles to cater to various preferences.
Its insulated bottles are esteemed for their ability to keep your beverages refreshingly cool throughout the day while also providing comforting warmth during chilly evenings.
Nevertheless, it's essential to acknowledge that for the direct boiling of water, additional equipment is required when using these water bottles.
This factor inevitably adds extra weight to your gear.
Alternatively, a multifunctional water bottle proves to be more practical during a backpacking voyage.
Multifunctional Water Bottle
Take, for instance, our newly launched titanium 1200ml/42.2 fl oz water bottle and 1500ml/52.8 fl oz - wide mouth variant.
These retain their lightweight and durable attributes while offering the added convenience of being suitable for boiling water directly.
Furthermore, consider that sourcing water from natural bodies like streams and lakes may not be safe.
These water bottles are compatible with CamelBak filters, simplifying the effortless acquisition of pure water.
Alternatively, the addition of a purification tablet to your boiling water effectively yields clean, safe drinking water within a reasonable 30-minute timeframe.
In cases where you're on the move, the replacement of the bottle's cap with a CamelBak flip-top cap provides a quick and hassle-free drinking experience without requiring cap removal.
For those seeking an alternative, a hydration bladder or reservoir, which can be seamlessly integrated into your backpack, is an option worth considering.
Although it may not be the preferred choice during summer when heat can cause the water within to warm, autumn's cooler air ensures a more refreshing temperature.
Reputable brands like CamelBak offer a wide range of sizes and styles to fit various backpacks.
Alternatively, the SteriPEN brand employs UV light to expeditiously and effectively purify water.
It is crucial to recognize that the selection of a hydration system is contingent on your unique needs and preferences.
While a combination of a reusable water bottle or a hydration bladder affords the convenience of on-the-go hydration, it is equally vital to augment your hydration arsenal with a water filter, purification tablets, or a lightweight portable water filter for the procurement of clean water from natural sources.
Armed with the appropriate gear, you are poised to remain adequately hydrated, thereby enabling you to relish your autumn backpacking journey to the fullest extent.
Nutritious Food
In addition to maintaining proper hydration, the selection of nourishing food is paramount to sustaining your energy levels during your backpacking adventures.
Dehydrated meals stand as a reliable companion for backpackers.
They offer the advantages of being lightweight, compact, and requiring only hot water for preparation.
These meals come in various flavors and varieties, catering to different palates and dietary preferences.
Popular options encompass freeze-dried delicacies such as beef stroganoff, teriyaki chicken with rice, beef curry, and zesty Mexican-style chili.
If you're interested in delving further into the topic of cooking for your backpacking trip, please take a look at this blog post titled "How to Cook for Your Ultralight Backpacking Adventure?"
For those following a vegetarian path, there are enticing choices like veggie lasagna, hearty lentil stew, and zesty three-bean chili.
The preparation of dehydrated meals is a straightforward process.
Once your trusty titanium water bottle has served its purpose in boiling water, simply pour the scalding liquid into the dehydrated meal bag.
Slip it into an insulated sleeve to ensure the heat is retained.
After approximately 20 to 30 minutes, massage the bag gently to evenly distribute the heat and rehydrate the meal.
The beauty of this method lies in its simplicity - you can savor your meal directly from the bag, making for a hassle-free dining experience.
However, it's wise to be equipped with a long-handled spork or spoon, especially as these meal bags tend to be on the larger side.
Dehydrated meals offer a wide array of options, spanning from pasta dishes to hearty stews and even sweet desserts.
Ensuring that these meals are nutrient-rich is crucial to keeping your vitality replenished throughout your trek.
While the convenience of pre-packaged dehydrated meals is undeniable, they can prove costly and occupy precious space during extended backpacking endeavors.
DIY Dehydrated Meals
An alternative approach is to embark on a DIY adventure by dehydrating your own culinary creations.
This method grants you full control over the ingredients, allowing you to curate meals that align with your preferences and budget.
Simply dehydrate individual components, such as vegetables, cooked pasta, or meats, and subsequently blend them to craft custom meals.
Utilizing a pot or cup to boil water facilitates the rehydration process.
Afterward, the same vessel can be employed as a dining container, streamlining your camping experience.
Introducing our newest release, the 750ml/25 US fl oz cup with lid and bail handle, designed with the optimal capacity tailored perfectly for this purpose and featuring a convenient bail handle, making it ideal for suspending over a campfire and elevating your culinary escapades amidst the grandeur of the great outdoors.
To supplement your energy intake throughout the day, remember to include an assortment of snacks like dried fruits, nuts, and chocolate bars.
These portable delights provide quick boosts of energy and add a delightful variety to your backpacking menu.
Navigation Tools
Navigation tools take on heightened importance in complex terrains, where the ground is obscured by a dense blanket of fallen leaves, posing a considerable challenge in determining your route.
Maps, in this context, emerge as invaluable resources, providing comprehensive insights into the landscape's features, contours, elevations, and the intricate labyrinth of trails that crisscross your selected destination.
To ensure your navigational precision remains unwavering, it's imperative that your compass boasts adjustable declination.
Esteemed brands like Suunto should merit your consideration, with models like the Suunto MC-2 earning favor among dedicated backpackers.
Regarding GPS devices, they serve as dependable tools for monitoring your progress, pinpointing your exact location, and furnishing guidance along your chosen path.
Nonetheless, it's wise to bear in mind the importance of carrying spare batteries to maintain uninterrupted functionality.
Headlamp or Flashlight
A reliable light source is a must for autumn backpacking.
As the daylight hours wane, the importance of a reliable source of illumination becomes paramount.
It serves as an indispensable tool for tasks ranging from setting up camp and navigating unfamiliar terrain to ensuring your safety during twilight hours.
Consider options such as the Petzl Actik Core Headlamp for hands-free illumination. This brand is recognized for its quality and performance in the field.
Yet, for those who favor the adaptability of a handheld flashlight, the Fenix LD22 emerges as a robust contender.
Despite its compact stature, it conceals a potent beam, rendering it an impeccable companion for intrepid backpackers.
To ward off the unforeseen encroachment of darkness, do not forget to stow your selected headlamp or flashlight, along with extra batteries.
While making your decision, take into account pivotal factors such as luminosity levels, beam range, battery endurance, and sturdiness.
Ensuring that your choice harmonizes with your precise requirements and personal inclinations will endow you with the confidence to traverse the captivating, albeit dimly illuminated, realms of the autumn wilderness.
First Aid Kit
Additionally, it's very important to stay careful because unexpected accidents can happen.
So, having a first aid kit that you can easily reach is really, really important.
Make your kit right for you by including things like bandages, special wipes to clean wounds, medicine for pain, stuff to help blisters, and any medicines you need personally.
Also, remember to look at what's inside your kit every now and then before you go on a trip. This makes sure that nothing in it is too old or has been used up.
But having these supplies isn't enough. It's also really important to know how to use them properly.
Think about joining a basic wilderness first aid class. It will teach you what to do in case of emergencies, and that can give you a lot of confidence.
Communication
Effective communication in the wilderness is not just about convenience; it's a vital safety measure.
While your smartphone can be a valuable tool, especially if it has a GPS function, it's essential to be mindful of battery life.
Ensure you have a reliable portable charger like the Anker PowerCore to keep your devices powered throughout your adventure.
When you're exploring remote areas where cell reception is unreliable, consider a satellite communication device like the Garmin inReach Mini.
This device allows you to send SOS messages in emergencies and maintain contact with family and friends via text messages, even in areas with no cellular coverage.
Remember that communication is not only about reaching out for help but also about letting someone know your plans.
Inform a trusted person about your itinerary, expected return time, and emergency contact information, so they can take action if needed.
Leave No Trace Essentials
Lastly, to uphold your responsibility as a conscientious backpacker, it's imperative to minimize your environmental impact.
Embrace the Leave No Trace principles to accomplish this:
Carry a compact trowel to ensure the proper burial of waste.
Pack out all refuse, including items that are biodegradable, as decomposition occurs at a slower pace in cooler temperatures.
Exercise great care when traversing fragile ecosystems by adhering to designated trails and showing utmost respect for the indigenous flora and fauna.
Conclusion
Embrace the serene charm of autumn, where the crisp, refreshing air creates the perfect backdrop for an enthralling backpacking adventure.
Amidst the enchanting scenery of changing leaves and cooling temperatures, this journey promises a truly unique experience.
Here, you can bask in the splendor of the natural world without the hustle and bustle of summer, reinvigorated by the season's gentle allure.
Effortlessly switch between warm days and cool nights with suitable clothing and ensure your backpack matches your gear and trip length.
For shelter, opt for a 3-season tent and carry an emergency shelter for added safety.
Sleep comfortably with top-quality sleeping bags and pads. Multi-tools and knives are essential, as are fire-starting materials for warmth.
Choose the right hydration system, pack nutritious meals, and bring navigation tools for challenging trails.
Don't forget lighting for safety and a personalized first aid kit. Stay connected with satellite devices and minimize your environmental impact.
With these 14 thoughtfully selected essentials, you're fully prepared for your autumn backpacking adventure.
Nature's awe-inspiring spectacle awaits, and the serenity of the season beckons.
So, gear up, step into the woods, and create unforgettable memories amid the exquisite beauty of autumn.
If you have any questions, please feel free to leave a comment below.
To your next adventure
Steve