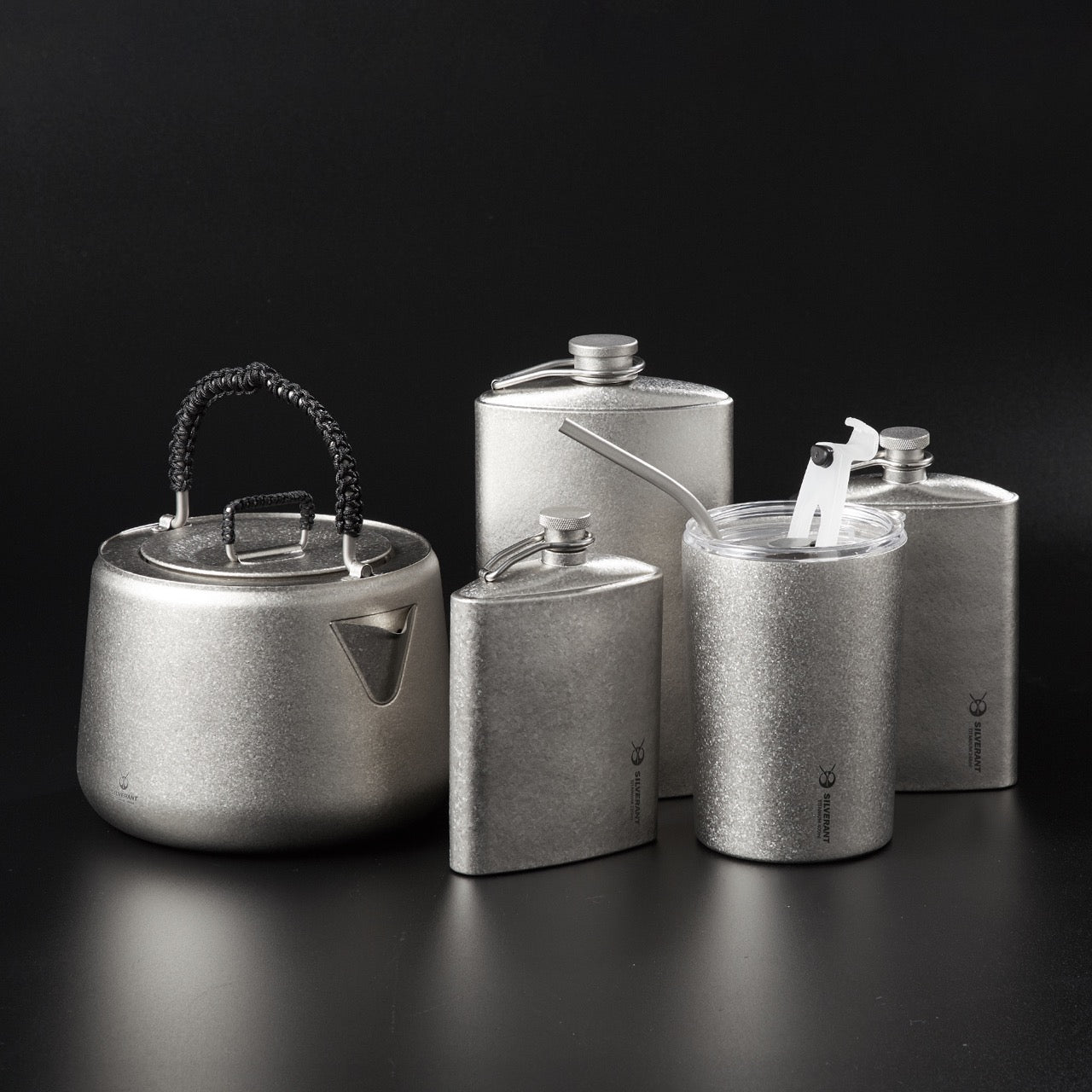 In this article, I will go through and explain the process of both titanium crystallization and titanium sandblasting. I will delve into what each finish is, what are the differences, and how SilverAnt does titanium crystallization and sandblasting. So without further delay, let's get into this.
What is Titanium Sandblasting?
Titanium sandblasting is an abrasive finish added to titanium products. The majority of SilverAnt's products start their life from a large sheet of titanium. This sheet of titanium is a natural dark grey color, but there are various shades of dark grey throughout the sheet. The titanium gets dirty during the cutting, pressing, and welding phases. It has residue from welding, particles from cutting, etc. This is why before sandblasting we need to clean each product. After cleaning using a water bath we dry every product thoroughly. We can sandblast the titanium product after each product is cleaned and dried.
The sandblasting utilizes thousands of micro-particles to remove any titanium discoloration. This gives a clean even finish on every item of ultralight titanium gear we produce. This is not a coating or coloring!
Titanium is an amazing material because of its thermal conductivity. You can boil water and cook food quicker in a titanium pot. 
If the titanium camping cookware pot were coated the coating would peel after a few uses. 
After Sandblasting we give each product a final deep clean. Once the product is completely dry we take the product onto the final phase of manufacturing. Adding our product logo and boxing ready for shipment.
Why do we use Titanium Sandblasting?
At SilverAnt we want to create the best products that are built for a lifetime of adventures. Titanium is the obvious material choice because of its unique properties. Biocompatible, anticorrosive, and ultralight to name but a few.
Sandblasting is an incredible tool for SilverAnt to use because it gives an even finish. We use sandblasting to remove any discoloration so every product looks the same. We want to guarantee the highest quality product and sandblasting is a fantastic solution for this. Sandblasting also is the industry standard for titanium outdoor products.
What is Titanium Crystallization?
This brings us nicely to the next part of this blog post. So what is titanium crystallization?
Titanium crystallization is achieved by heat, pressure, and time. It's the perfect triad of components. At SilverAnt's own certified ISO:9001-2015 manufacturing facility we recently invested in the machinery to achieve this unique finish.
To create this finish every product in our entire collection requires a different amount of time, heat, and pressure. It's what makes it so unique. Depending on the product we need to use on average temperatures of up to 1000 Degrees Celsius. The machinery we use is able to create a vacuum and this combination of heat, pressure, and time creates this crystallization. For example with our 1400ml large titanium kettle, we need to "cook" for 15 hours.
Also before the crystallization every product needs to be clean and sandblasted. The manufacturing phases remain the same. The only difference is the SilverAnt laser logo inscription is done after crystallization.
About Titanium Crystallization 
With SilverAnt's new titanium crystallization it is an exciting step forward for our outdoor company. It is a totally unique finish we can offer customers, and add to our titanium products. But there is more.
Titanium crystallization is totally unique. And by unique I mean that no two products are identical. Alike the human fingerprint there are common similarities and from afar the product finish looks the same. However, under a microscope, the crystallization pattern is unique. Alike the snowflake, intricately patterned but no two are the same.
This unique finish is only achieved with the correct amount of time, pressure, and heat. It's what makes it so special.
Titanium Crystallization and Onwards
With the ability of SilverAnt to add titanium crystallization to our products. We have become the first outdoor titanium company to do so.
At the moment we have added this crystallization to our hip flasks, tea range, kettles, and a select few water bottles checking all the gear in our Crystallized Titanium Finish collection. And we will continue to add further products with titanium crystallization.
Crystallization is an important step for us and it helps us progress onto hydro-anodizing.
Hydro-anodizing will be our next iteration adding the rainbow, blue and green to our products. Other titanium outdoor companies are offering this fantastic finish but only on sandblasted products. It is SilverAnt's ambition to add the hydro-anodized finish on both sandblasted and our new crystallized products. This would offer a greater variety of options and finishes for our customers. It is an exciting step going forward and one to look out for!
Thanks for sharing this journey with SilverAnt.
Shaun