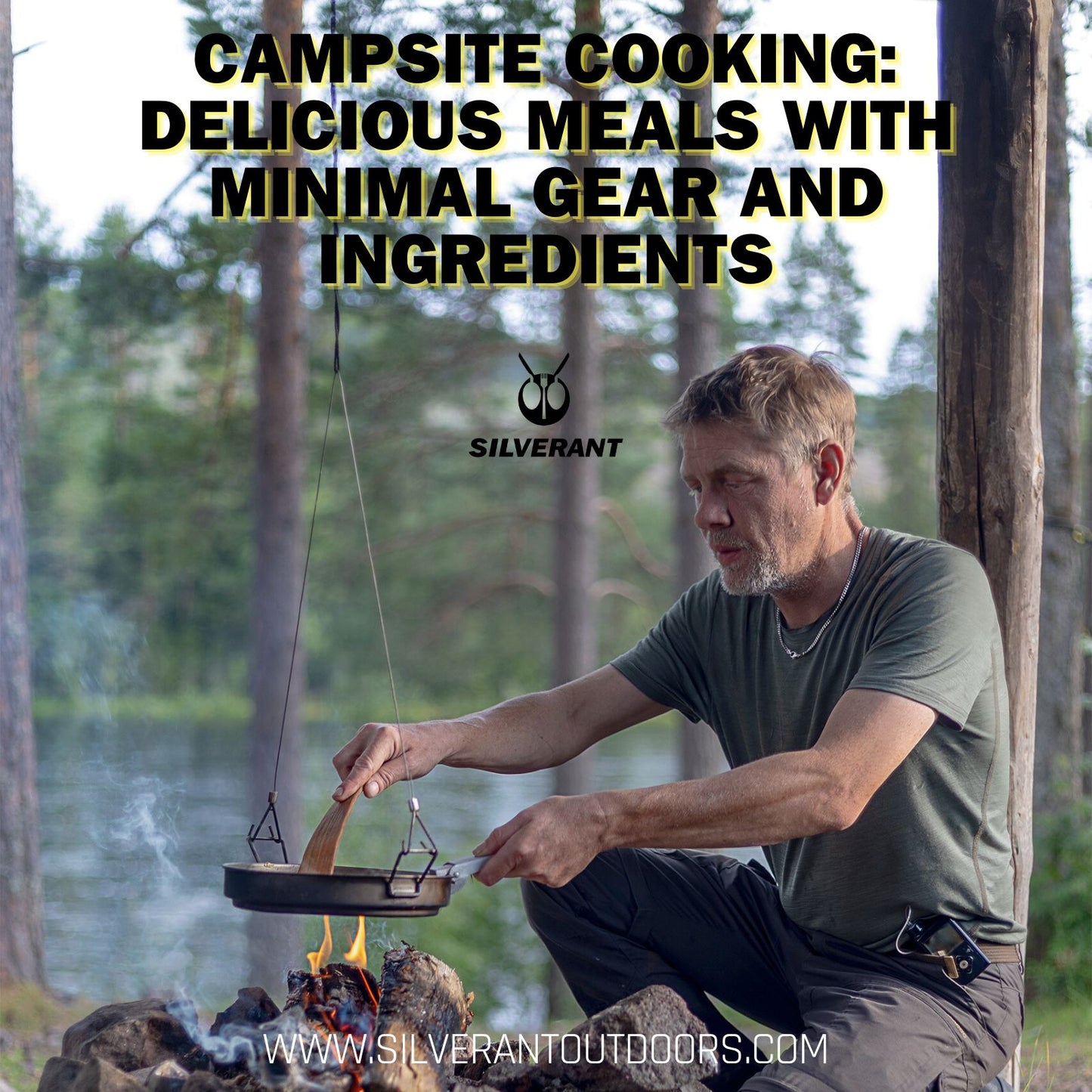 Campsite Cooking: Delicious Meals with Minimal Gear and Ingredients
The crisp morning air, a delightful birdsong, and the gentle pine-scented breeze—camping offers an exciting escape from your everyday routine and a chance to connect with the great outdoors.
However, one of the most notable challenges for campers is preparing delicious meals.
In our previous blog post, we shared some backpacking recipes.
But as we embark on more backpacking journeys, we discover that the more ingredients and equipment we pack, the heavier our backpacks become.
This issue becomes particularly noticeable when you backpack alone on extended multi-day treks.
So, in this blog post, we'll delve into the realm of campsite cooking with minimal ingredients and uncomplicated gear, suitable for breakfast, lunch, and dinner.
Our aim is to craft meals using just five ingredients or fewer, and with only one, or at most two, pieces of equipment.
Are you ready to explore this straightforward approach to campsite cuisine?
Breakfast Options for Campers
When it comes to a camping breakfast, simplicity and energy are the two key factors to consider.
You want something that's easy to prepare but also provides you with the fuel you need to kick-start your day of outdoor adventures.
Let's take a closer look at some camping breakfast ideas that are not only straightforward to make but will also ensure you have the energy to conquer the trails and explore the great outdoors.
Oatmeal
Oatmeal is the classic go-to breakfast choice for campers. It's a quick and straightforward option that doesn't demand a lot of equipment.
It's my personal favorite for camping breakfast too.
To make this nourishing breakfast, you'll require a pot, water, and, of course, oats.
For some added excitement and variety to your porridge, think about bringing along dried fruit, nuts, and a drizzle of honey or maple syrup.
I must say, the combination of dried blueberries, almonds, and maple syrup is an absolute winner.
Then, proceed by heating water in your pot. Once it's boiling, mix in the oats, dried blueberries, almonds, and a drizzle of maple syrup. Allow it to steep for a few minutes.
The end result is a warm and hearty bowl of oatmeal that you can customize to suit your preferences.
If you're looking for a faster boiling time, don't forget to opt for a titanium pot.
Campfire Scrambled Eggs
The next recipe on our list is campfire scrambled eggs.
Now, let me explain. Most scrambled eggs, especially those prepared while camping, often turn out bland and disappointing.
However, with this particular method, your eggs will transform into something akin to soft, heavenly clouds.
You'll only need three simple ingredients: eggs, water, and stick butter. The rule of thumb is straightforward: for each egg, include one tablespoon of water and one tablespoon of regular butter.
Combine these ingredients in a titanium pot. Yes, a pot, not a frying pan as you might expect.
Begin by keeping the egg yolks whole initially, and then, away from the heat source, start stirring to blend the egg whites and water.
Next, position the pot over the fire. As the eggs begin to warm up, gently break the yolks and stir the eggs together.
Around this time, the butter should also begin to melt. Once you notice the butter melting, remove the pot from the heat while continuing to stir.
The key here is to keep moving the eggs on and off the heat.
We're aiming for a gentle warmth that barely cooks the eggs and allows the butter to melt, but nothing more.
Typically, this involves a pattern of 30 seconds over the heat and 15 seconds off.
Once the butter is fully melted and thoroughly incorporated, you can leave the eggs over the heat a little longer.
Keep stirring until your eggs come together. They may not appear entirely cooked, but that's perfectly fine.
Even so, remove them from the heat. The residual heat in the pot will take your eggs to perfection.
Trust me, you'll experience a whole new level of flavor.
Campfire Granola
The last breakfast treat is campfire-cooked granola.
Sure, you could prepare granola at home before your camping trip.
But when you whip up your granola fresh over a campfire, it acquires delicious qualities that add taste, smell, and crunch.
Here's what you need:
- 6 cups of rolled oats
- 2 cups of pecans or almonds
- ½ cup of vegetable oil
- ½ to 1 cup of maple syrup
- 1 cup of dried cranberries
You can store the oats, nuts, and dried cranberries in a plastic food bag, following the amounts.
The vegetable oil and maple syrup can go in another bag.
To make the granola, begin by heating a titanium frying pan until it's nice and hot.
Add your nuts and toss them around. It's a good idea to move the pan away from the fire as you do this to avoid burning them.
Once they start to smell wonderfully nutty, add the rolled oats. Cook this slowly over the fire until it turns a lovely, nutty brown.
Then, remove the pan from the heat and add the vegetable oil and the maple syrup.
Depending on how thick you like it, you might want more or less syrup. Mix it all together, and when it's fully blended, put it in a bowl.
Speaking of the bowl, be sure to choose a titanium double-wall bowl. The two layers and the insulation inside will keep your fingers safe from burns.
Finally, add the dried cranberries and enjoy it while it's still warm.
You can also cover and save it for more breakfasts during your camping trip.
In a nutshell, these camping breakfast ideas are not only easy to make but also adaptable.
You can change them up by using different ingredients and spices, making sure you're well-prepared and energized for your outdoor activities.
Camping Lunch Options
When lunchtime arrives, it's time to prepare a substantial midday meal.
You need a lunch that will provide the energy you require for the adventures that await, but without demanding excessive time at the campfire.
Some guys may opt for a sandwich due to its quickness and energy content.
However, you have a variety of other options to consider.
Butter Masala Chicken & Flatbread
Our first delightful dish is the butter masala chicken served with flatbread.
Whenever I come across the name of this recipe, it never fails to make my mouth water.
It's a filling and heavenly dish, and when paired with the Maya Kaimal Butter Masala simmer sauce, it all comes together with incredible ease.
This meal is not just delicious but also deeply satisfying; there's really nothing to dislike about it.
Plus, it packs a generous amount of protein to help you recover after a day of outdoor adventures.
Here's what you'll need:
- 1 container of Butter Masala sauce
- 1 ½ lbs. boneless, skinless chicken, cut into 1-inch cubes
- Naan bread
- 1 Avocado (for topping)
- 1 tablespoon of butter
Feeling hungry? Let's dive in.
To begin, in a medium-sized titanium pot, warm the oil over medium heat.
Next, add in your cubed chicken and lightly brown it on all sides.
Introduce the Butter Masala sauce to the pot and blend it all together.
Then reduce the heat to medium-low, cover the pot, and let the mixture simmer for approximately 15 minutes, or until the chicken is thoroughly cooked.
If you'd like to enhance its richness, you can swirl in a tablespoon of butter at the end.
Note: Should you find the sauce becoming too thick during this process, you can add a bit of water to thin it out.
Lastly, garnish with avocado and serve with your favorite Naan bread.
Yet, when preparing this dish, make sure to bring along a canister stove to regulate the intensity of the flame.
Brown Rice, Everyday Dals, & Avocado
If you're getting a tad weary of the usual bread-based meals, consider this alternative featuring brown rice.
It's a quick, flavorful choice that supplies ample carbohydrates to fuel your afternoon outdoor endeavors.
You won't need many ingredients:
- 1 bag of Maya Kaimal Everyday Dals
- ½ cup of brown rice
- 1 avocado
Tips: You can utilize the same reliable titanium pot for both cooking the brown rice and warming up the Everyday Dals.
To start, cook the brown rice. Place the rice in the pot, add a cup of water, and a pinch of salt, and then bring it to a boil.
Once it's bubbling away, cover the pot, reduce the heat to medium-low, and allow it to simmer until the rice has absorbed all the water, which should take roughly 15 minutes.
Next, transfer the cooked brown rice into your eating bowls.
As mentioned earlier, it's wise to choose a double-wall titanium bowl to shield your fingers from potential burns.
While your pot is still warm, introduce the Everyday Dals and heat them for about 5 minutes, or until they are thoroughly warmed, and then serve them on top of your rice.
Complete the dish by adding some freshly sliced avocado, and savor your meal – you will never regret it.
Kashmiri Chicken Sausage over Zucchini Noodles
But if you're looking for a light, refreshing lunch with strong flavors and lots of protein, give this delicious dish of Kashmiri chicken sausage on zucchini noodles a try.
This particular meal earned high praise from Shaun during his recipe testing.
Here's what you'll require, and remember to stow the pre-spiralized zucchini in a securely sealed plastic bag to keep them from drying out:
- 1 container of Maya Kaimal Kashmiri Curry
- 4-5 chicken sausages or any sausage variety you prefer (cut into round pieces)
- 2-3 spiralized zucchinis
- ½ cup of peas
To prepare this meal:
In a medium-sized titanium frying pan, warm up your oil over medium-high heat.
However, it's advisable to use a bit more oil due to titanium's rapid heat conductivity.
Once it's sizzling, add the chicken sausage and quick-fry it for approximately 5 minutes, or until it turns a delightful golden brown.
Next, introduce the Kashmiri curry and allow it to simmer over medium-low heat for another 5-7 minutes.
Then add the peas and let them simmer for an additional 5 minutes.
Lastly, serve this over fresh, uncooked zucchini noodles for a light, crisp, and protein-packed camping meal option.
If you prefer your zucchini noodles to have a softer texture, you can quickly fry them for a couple of minutes before cooking your chicken; they don't take long to soften up.
I vividly recall the first time I tried this meal; it brought a burst of freshness to the sweltering summer backpacking trip.
In summary, these three lunch choices offer campers a variety of options for satisfying their midday hunger during outdoor excursions.
Whether you choose the hearty Butter Masala Chicken & Flatbread, the wholesome Brown Rice, Everyday Dals, & Avocado, or the light Kashmiri Chicken Sausage over Zucchini Noodles, each option is designed to keep you fueled and content for the upcoming afternoon journey.
Campfire Dinner Ideas
As daylight fades and dusk sets in, it's time to pause and start preparing dinner.
Unlike the hurried pace of breakfast and lunch preparations, dinner allows for a more leisurely approach.
Based on my personal insights, you can take your time to leisurely create a campfire, set up a cooking tripod, and prepare your dinner at a relaxed and unhurried tempo.
For additional guidance on how to construct a cooking tripod, please refer to the "Shear Lash" section in the blog post titled "Knots 101: Essential Knots Every Outdoor Enthusiast Should Know."
This process not only dispels your fatigue but also fosters a profound appreciation for the captivating beauty of the backcountry.
Taco Soup
Let's kick things off with a timeless classic - Taco soup!
It's personally one of my all-time favorite dishes, and it's simply delightful when served with a side of tortilla chips.
This soup is a chunky, hearty, and mildly spicy creation that's perfect for those chilly evenings.
When it comes to soup recipes, it doesn't get much simpler than this.
Ingredients required:
- 1 lb ground beef
- 1 medium onion
- 1 diced tomato
- 1 can of black beans
- Tortilla chips (as many as you desire)
To start, hang your titanium pot above the campfire on the tripod.
From my own experiences, ensure it's about 4-6 inches (10-15cm) above the flames.
Then, heat some oil in your pot and add the ground beef and chopped onion.
Cook these until the beef is brown and the onions are soft.
Next, put in the diced tomato and the black beans from the can.
Don't throw away the liquid in the can because it adds flavor and moisture to the soup.
Stir everything together and gently let the soup simmer.
Let it cook for about 30 minutes, then add salt and pepper to your liking.
Serve with tortilla chips, and you're ready to enjoy a comforting bowl of taco soup!
Campfire Pizza
I believe there's hardly anyone in the world who can resist pizza.
But you know what's even better? The aroma of pizza sizzling over a campfire.
Just picture it – two of the most delightful scents converging and floating through the air.
Feeling hungry? You're in for a treat.
To make this campfire pizza, you'll require store-bought dough, pre-sliced green pepper, pre-sliced mushrooms, pre-sliced cherry tomatoes, and pre-shredded cheese.
You can adjust the amount of vegetables and cheese as you like.
The steps are simple. First, much like your setup for the taco soup, swap the pot for a titanium frying pan.
Cut the dough to fit your pan, and fold over any extra dough.
Next, cook the dough on the hot campfire until the bottom becomes brown and golden.
And I always like adding a bit of oil to the pan beneath the dough to achieve a tender pizza.
Take the pan off the fire and flip the dough.
Then add the diced veggies and shredded cheese on top of the dough.
Finally, cover the pan and cook until the cheese melts and the veggies become tender.
Now you have a delightful campfire pizza to relish, an experience you've likely never had while cooking indoors.
Campfire Burritos
If you find the idea of setting up a tripod and cleaning cookware after your meal a bit of a hassle, campfire burritos will be the perfect solution for you.
Simply tightly wrap all your ingredients in aluminum foil and place them in the fire until they're heated throughout.
Here are the ingredients you'll need:
- 1 large flour tortilla
- ½ cup cooked white rice
- ¼ cup canned refried beans
- ¾ cup shredded Mexican cheese blend
- ½ cup salsa, with extra for serving
To kick things off, trim an 18-inch strip of durable aluminum foil.
Now, take the tortilla and position it at the end of the foil. Over the tortilla, evenly distribute ¼ cup of beans towards the center, closer to one edge.
After that, layer on ½ cup of rice, sprinkle it with a generous three tablespoons of cheese, and drizzle it with two tablespoons of salsa right on top of those beans.
Roll up the tortilla as snugly as you can to create your burrito, ensuring that you neatly fold in the edges.
To seal the deal, wrap the burrito securely with the aluminum foil.
Keep in mind that because cooked white rice can spoil in warm weather, it's better to enjoy this meal in the cooler fall and winter seasons.
In a nutshell, these camping dinner suggestions not only enhance the pleasure of outdoor dining but also complement the campfire ambiance, ensuring a fulfilling and delightful dining experience beneath the starry skies.
Conclusion
In conclusion, camping is a fantastic way to refresh yourself.
And these straightforward recipes, with limited ingredients and gear, can significantly enhance your outdoor adventures.
For breakfast, from simple oatmeal to hearty campfire scrambled eggs and fresh granola over a campfire. Each caters to different tastes.
Lunch offers you choices like butter masala chicken and flatbread, wholesome brown rice, everyday dals, and avocado, and light yet protein-packed Kashmiri chicken sausage over zucchini noodles.
When dinnertime arrives, you can enjoy taco soup, campfire pizza, or campfire burritos.
These recipes provide a range of flavors and preparation methods for a satisfying meal by the campfire.
No matter your choice, they allow you to savor nature's beauty while enjoying delicious and nourishing food.
Whether you're an experienced camper or a newbie, these recipes make camping meals a breeze.
In addition to the cooking essentials like the pot, frying pan, and double-wall bowl we mentioned above, don't forget to explore our cutlery, tent stakes, water bottles, and other camping gear.
They can all enhance your overall camping adventure.
Do you have your own campsite cooking recipes to share? We welcome your comments below.
To your next adventure
Steve