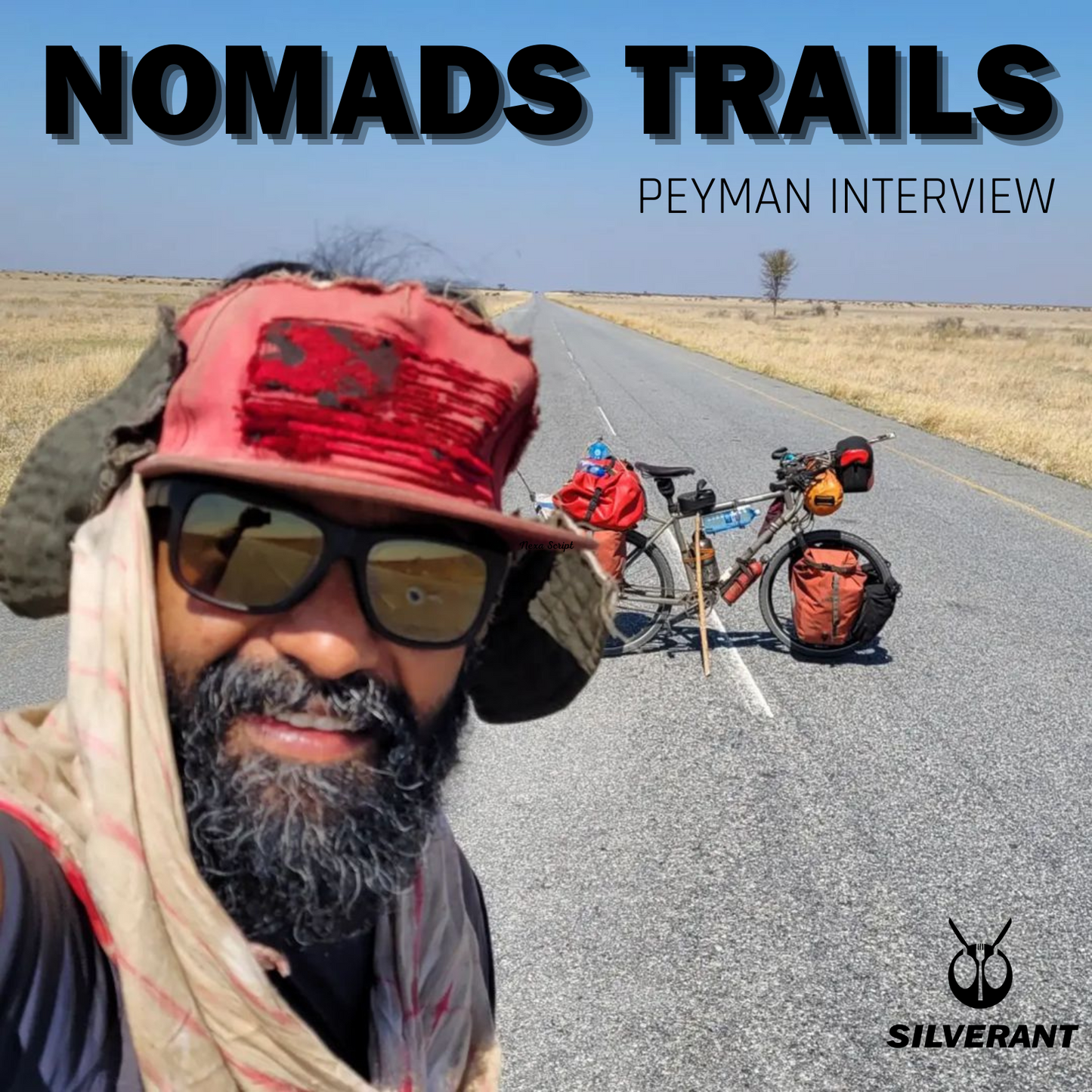 Peyman from Nomads Trails
Where do we start?
Well, firstly let's say this is mine and SilverAnt's very first interview so it is quite exciting that our first interview is with Peyman from Nomad's Trails. 
Peyman is a well-known traveler, cyclist, outdoorsman, climber, and adventurer who records his travels as he cycles around the world. He has built up a huge community of followers on both YouTube and Instagram, where he shares his cycling adventures. 
SilverAnt is very excited to work with Peyman and provide the ultralight titanium gear for his multi-year bikepacking trip from Patagonia to Alaska.
Prior to his upcoming adventures and cycling around the Philippines, we caught up in early January while he was home in Finland.
Below is our conversation covering a broad spectrum of topics.
What inspires you? These adventures can be pretty gruelling with immense distances. When it's difficult what helps you pedal forward?
This is a deep question. I am definitely inspired most by the people I meet in my adventures. In the last years in Africa, you would be amazed at the skills and abilities I have witnessed from the people. They can fix mend, and repair everything. With my long adventures, the biggest issue I face is carrying extra replacements, so seeing them and their abilities to repair and fix them is incredible. 
I also love the simplicity of the lives of the people I meet. They are happy and fulfilled and it makes me think in Finland of how much we have in western societies. I presently am in Helsinki but I need nature. I can live in a city but I feel most alive in nature. I need it! Its the essence of who I am. So to get back to your question what inspires me is simplicity. We don't need a lot.
I love the image you have on Instagram of the man with the crank that has an issue. It was one of the reasons I wanted to work with you as I felt really humbled by that post. 
Thanks man, yeah I love Africa. I learn so much being there. I choose to integrate with the locals everywhere. I want an authentic experience and as a person, I love to learn. I am learning about the places and people but more so I am learning about myself both physically and mentally. 
On my adventures it's more about me getting to know myself. My strengths, and weaknesses. When I am on these trips it's all about discovering who you are. 
I understand there will be moments when it's tough, the conditions and elements suck, and you're hungry. 
These are the moments I live for. I find great strength in these experiences and it makes you go deeper inside yourself physically and mentally.
Can you give an example of when things got bad and turned out badly?
There are a few but the biggest and closest was when I got caught in an Avalanche in a Norwegian valley. There were a few seconds when my life flashed before my eyes. The snow was coming so quickly and in that instance, I saw my life and had no regrets. I was under and I don't know how long but I knew If I can live and continue I would do exactly the same. That was very empowering. Luckily I was able to get up and walk out of that.
Wow! I love the place where the conversation has led. It's in these moments you really get to know who you are in the truest essence. 
Thanks, man
I saw the post on Instagram of the male lion roaring 30m from your tent. I think in Tanzania? How do you react to those situations?
In that situation of course you are a little nervous but an adult lion will usually never come up to your tent.  They're not that curious, it's the cubs that would potentially. In that instance, it is what it is. There is nothing I can do really. You get used to these things.  
Let me change the direction. How did you get into bikepacking? And why do you continue?
When I was younger in my early twenties I went to India and Nepal. It was an incredible trip to the Himalayas. I rode on a motorbike but in honesty, I just went too fast. I mean that both in speed and the time I took to explore. It was just looking back too quick. An amazing region but there are definitely things I would change if I went back and did it.
After that trip in 2013/2014, I rode from Finland to Portugal by bike. That was my first real bikepacking trip. It was amazing! I loved that trip! I had just finished my bushcraft course in Lapland and taking those survival skills and then riding, camping every night cooking my own food. That was a really deep learning experience. After that trip, I just fell in love with biking as a way of travel and I haven't stopped since. 
How did you choose your upcoming trip from Patagonia to Alaska? 
On Instagram, I asked my audience and they suggested Asia or the Americas. After the suggestions, I decided on the Americas because I love to climb. I am really excited about Patagonia and the Andes. Also in the last years, I've spent 3/4 years in Africa. I love Africa but I also want to see some mountains and climb. As you know Africa is pretty flat.
Do you train at all for your long-endurance cycling? How many kilometres do you cover on average per day?
I don't train, after about 10-14 days you are adapted to the riding and the amount of distance each day. You need to think more about stretching and an exercise program. Riding is tough on your back, lower back, legs, and muscles. To do this daily you need to keep flexible. Every morning and evening I do a stretching sequence that keeps me strong and more importantly flexible.
Are these more yoga-based sequences or calisthenics and stretching?
A bit of everything in honesty. Actually, in India, I did yoga training so that definitely had a big influence. The stretching is all body but some days I'll focus on a particular area if there is some pain or it's sore. I do a lot of stretches for my lower back, some twists to support the connecting muscles. All really great. The key is to do it in the morning and evening.
I noticed that your style of riding and your bike is more traditional compared with the latest gravel bikes. You never have any backpack or gear on your body when riding. Everything is mounted on the bike. Why do you prefer more traditional touring bikes?
This is more about as I said earlier everything has the ability to break. With a normal bike chain it snaps quite easily and that's why I have opted for this style. It has taken a long time but now I've really dialled my setup for the bike and I love it. 
I saw you ventured to Germany specifically for this bike. 
Yeah, they helped me build it specifically. It has a lot of room now for my gear. As you said I don't want to be carrying weight really while riding on my back. 
On your question of distance, how long do I ride daily? This depends on the place I am going to, the distance, etc. 
On average though 80km a day. This is 7 - 8 hours of riding daily. I try and ensure I have camp set up between 4-5 pm with setting off in the morning between 8-9 am.
How do you manage the nutrition and water demands of bikepacking?
This is a good question and one I get a lot from my followers. It can be difficult to manage but it really depends on the length and distance between places. For example, if I know the next town where I can get supplies is a few days away I need to prepare. This is especially true for the upcoming trip to South America.
In Africa, it is pretty easy as there are villages and small towns along the route. Where possible I love to stop and talk with the locals, buy food, and find small restaurants and such.  
One thing I have become more attuned to in the last couple of years is intermittent fasting, following the 16/8. No food for 16 hours and only eating within 8 hours. This has made a huge difference in my energy levels, attitude, and more. I feel the difference. If I don't fast I feel slower riding, more lethargic, and less nimble on my feet. 
Lastly, I drink as much water as possible while riding. I have always carried multiple large water bottles as hydration is so important. Africa is hot and in that heat, you need to drink a lot.
Wow that's epic you do intermittent fasting! But I have one question about this as some stages or days you are doing some serious distance on your bike. How do you prepare for the amount of calories you will burn?
When the distance isn't too large between locations I love to eat locally. I try and get a balanced diet of carbohydrates, greens, and protein. If on one day I don't have access to greens I'll make up for it tomorrow or vice versa. When I can I love to explore local restaurants. With my average daily cycling, I feel that fasting and following the protocol don't affect the distance or calories. I still need to eat the same but I am just more disciplined.
Ok thanks that's really insightful. Now to change direction. What gear do you always rely on for bikepacking adventures?
I have a lot of gear between my bike, tools, camping/cooking equipment, and then editing gear and laptop. With my gear, I don't rely on any one piece but I look for durability and functionality. Like if a piece of gear can serve many purposes and fulfill multiple roles then that's what I am after. 
As I have done more trips I've also wanted to reduce the amount of weight I carry. I also have come to rely more on my own skills because everything has the ability to break. Like now I have a very organized set up. I have the custom bike and the lightweight titanium gear from you guys. I am now adjusting the editing gear for riding to reduce the weight of everything The editing and shooting gear weighs a lot!
My laptop broke down on the recent Africa trip and I have heaps of content now to edit and upload. It's almost every day editing. But I'm enjoying it and there is a lot of content I want to share. For my videos I do a lot of production work to shoot so to share this in the coming months will be great.
Could you give a summary of the basic gear you have besides your bike for your planned Patagonia to Alaska trip? And do you know the weight of all the gear roughly? 
So my base gear weighs 35kg, it's about 10-15kg with everything for shooting and editing. So 50kg but this doesn't include food or water. I am working on reducing the weight of the gear I carry especially for the trip to the Philippines and then Patagonia. I will use the trip to the Philippines to test thoroughly.
What's your favorite piece of SilverAnt gear and why?
SilverAnt's large titanium water bottle. To be able to boil water in a water bottle means I don't need an extra pot. I can reduce the gear I am carrying.
I have used Nalgene with their 1.5l water bottle but after a lot of use, it's hard to clean. I have the Klean Canteen stainless steel bottle and that is really heavy. It's why I love the titanium water bottle from you guys at SilverAnt. In the bikepacking world, no one does a water bottle this size that is so light. I would love for you guys to make a 2-liter version. That would be amazing.
Some customers don't like to boil water in a water bottle with a campfire as you get black soot on the surface which is hard to clean. I advise people to use a gas stove as this doesn't happen.
It's funny I don't have this issue. If you make a good fire and it's really hot this isn't going to happen with soot and black marks.
This is a good point but not many people have your skills with fire Peyman. For example, if the wood isn't dry enough it's gonna smoke and produces soot. 
Ultimately it really doesn't matter about the black soot for what I need. I need a lightweight water bottle. So this is perfect. Compared with my Nalgene I can't boil water with it and as I said after serious daily use it stank.
On your adventures do you carry any luxuries, books, or headphones? Do you listen to audiobooks or podcasts while cycling?
No not really, when I ride I like to take in everything, the sounds, and the environment. Some music can be helpful but rarely. 
In reality, I don't need a lot. I love coffee so whenever I see a coffee shop or such I always stop. I also every morning have coffee at the tent. It's one of my addictions caffeine.
That reminds me of the recent post you put up of making coffee using the water extracted from the moss. 
Yeah that was a good post.
How did you get into the outdoors and being in nature? Was it from childhood or later?
My Father was a mountaineer and I grew up outdoors. I always knew I wanted to be in nature, to explore and have adventures.
That's epic, as a child to watch your father outdoors and have him take you or tell you his adventures. Definitely has a big influence. I also suspect that's why you are so excited about Patagonia! 
Ok, one more question. I just wanted to ask about the future. Do you have any ideas after your trip from Patagonia to Alaska?
This is a good question. Of course, I have some ideas but so much can happen in that time. As I am getting older I know that I can't do these big long trips so that has definitely been a thought. Also, it can get tiring packing the tent each morning and setting it up but that's the trade-off. I love to have a setup campsite for like a week every so often to just find somewhere beautiful. That's amazing and it replenishes you.
When I cycled from Finland to Portugal I fell in love with Portugal. I would like to do 6 months in Portugal per year and then 6 months in Lapland. I have a dream to build my own cabin. I would like to spend my time 50/50 between and then take smaller trips I think. I love my home and the north of Finland so to mix them would be perfect.
Sounds like magic. Lastly, where can people follow you or see more of your adventures?
They can head on over to my YouTube channel and subscribe.
Thanks for your time Peyman, take care, and cheers for the epic conversation.
I hope you liked this first interview from SilverAnt. I had a lot of fun interviewing Peyman and I learned personally a lot from our conversation. 
Please note all content is owned by Peyman at Nomads Trails.
Leave a comment below or connect with SilverAnt and Peyman directly on Social Media
To your next adventure!
Shaun